Audios
In addition to the digital and print version of the publication, there are also 50 audio podcasts available that are easy to download, save, share, and consult in the field on a mobile phone.
Below is the table of contents for this podcast.
Chapters:
01. Amphibious Voices
02. Expeditionary of the Colombian Massif
03. Páramo, The Ecosystem of Life
04. The Magdalena Lagoon, The Beginning of a Journey Through Life
05. Crossing the Clouds to Link the Valleys
06. The Art of Abbreviation
07. The River Over Stone
08. La Jagua, The Village of Witches That Refuses to Disappear
09. La Tatacoa Natural History Museum, A Museum is a House
10. Natagaima, A Town Crossed by People Where the Pijao Live on
11. La Chamba, Stories in Clay
12. The Burning of the Potter
13. Lechona, The Dish That Becomes a Party
14. Girardot, The Magdalena Port That Dazzled Bogotá
15. The Girardot Marketplace, A Window of Modernity onto the Magdalena Region
16. Cooking Without Recipes
17. Armero, Valley of Death, Land of Life
18. Faith, Territory, and Power
19. Magdalena River Museum, An Emotional Journey Through the River of Life
20. Puente Navarro, Audacity and Development
21. Building Traditions on the Magdalena River, Some Are Made of Mud, Others Are Made of Earth
22. Fishing in the Beds
23. La Miel River, Sweet Flesh of God
24. Oh, Freedom! The Route the River Found
25. Magdalena Funerary Urns, Perpetuating the Memory of its People
26. Puente Monumental, The Embrace Between Mountains
27. Stones and Fish
28. Puerto Berrío, Remolino Grande
29. Barrancabermeja Central Market House, from the Port to the Table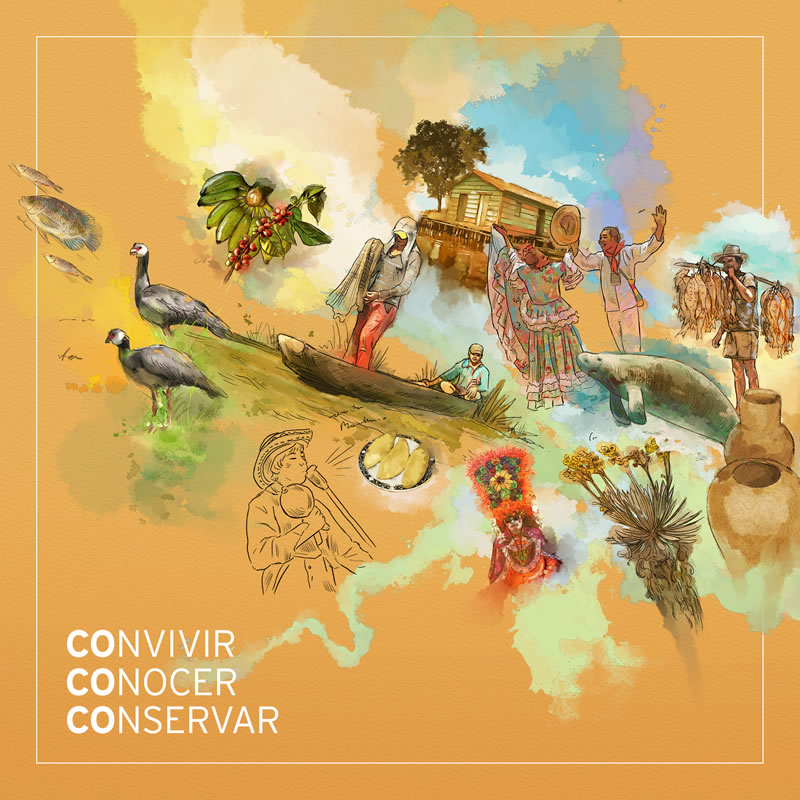 30. Frito Sudado, Magic and Heritage of Magdalena
31. Transiting to the Next World, Funeral Ritual of Afro descendants in the Middle Magdalena
32. Looking at the River from the Shore
33. Soledad, A Lost Manatee Washed up on the Island of Morales
34. La Gloria, in Magdalena
35. Among Líos and Rivers, Women and Washing Cycles in the Zapayán Marsh
36. San Martín de Loba, a Town for a Saint
37. Water Wood
38. Río San Jorge, Plowing in the Waters and Building in the Marshes
39. The Malibu, Ancient Amphibian Populations of the Lower Magdalena River
40. Mompox, an Illusion of Memory
41. Holy Week in Mompox, the Festive Joy of Atonement
42. Mompox, A Historic City with an Unparalleled Necropolis
43. The Dance of the Mischievous
44. Among Our African Ancestors, the Crocodile and The Caiman
45. Calamar, the Corner Where the River Splits in Two
46. I Flood
47. Rythm of the River
48. Gabriel García Márquez House Museum, Macondo: A Spell Against Oblivion
49. Barranquilla, Back to the River
50. Bocas de Ceniza, Meeting with Eternity
We hope that the public enjoys these audio podcasts and that the sound experiences they offer inspire them to coexist, cognize, and conserve Colombia's cultural and natural heritage.